22 Jan, 2020
Owner, Sarah Fox takes a SkiWeekends trip to Chalet Violetta in Avoriaz
.
Early start but worth it
We started our Thursday with a leisurely late-morning flight with Easyjet from Gatwick and a very quick exit through Geneva airport - it was so quiet compared to travelling on a Saturday or Sunday. The SkiWeekends boys in blue jackets, Matt & Iwan, were there to greet us and give us our welcome pack with the essentials like lift passes, piste maps and important contact information, and then they quickly got us into our minibus transfer which whisked us directly to Avoriaz in just under 1 hour 45 mins.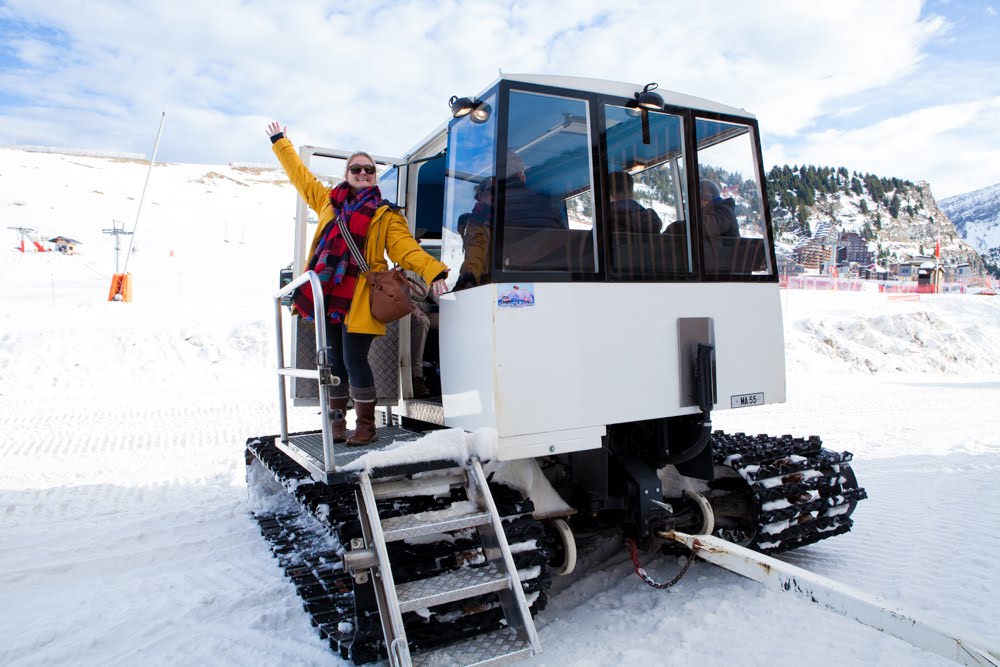 What a transfer to the chalet!
As soon as you arrive at the Transfer and Welcome drop off centre in Avoriaz you get a sense of magic which not all resorts in the Alps can offer; snow everywhere, Skidoos, horses pulling sleighs, happy skiers meandering through the town and the snow-cat vehicles arriving ready to take us to our chalet door. Avoriaz is a car-free resort so the only way around is by anything that grips or slides across snow! After a short but very exciting ride on a snow-cat to the chalet we were straight inside the front door of Chalet Violetta and making a beeline to the home-made cake and tea our smiley and enthusiastic host, Eve, had made for us.
MeEt our Chalet Host - Eve
Eve is in her gap year and has been professionally trained to cook by Orchards Cookery school. After being recruited by SkiWeekends she went through a further two weeks training to learn to cook & present the whole menu, and she also mastered of the art of making a house a home and learned how to keep the chalet looking cosy for SkiWeeknds' customers. Cooking and cleaning aren't where Eve's skills stop, as she even figured out a great way to stop crying when cutting all the onions and has shown why it's always important to have your ski goggles to hand. Next stop, Dragons' den!!!
After lots of friendly hellos with other guests, it's a short 3-minute walk to the ski hire shop to pick up our skis ready for a day on the mountain tomorrow.
Eddie 'The Eagle' Edwards joins us in resort
This was a very special ski weekend as Eddie 'The Eagle' Edwards joined us in Chalet Violetta. The British Olympic legend came to Avoriaz to ski and dine with our customers – adding the sprinkles on top of what was already set to be a great holiday. Back at the chalet, it is time to meet Eddie over a glass of wine before dinner. I had the red but the white and rose were flowing just as freely from the carafes. There was lots of easy-going chat with Eddie before a lovely goat's cheese crostini, followed by Moroccan lamb tagine & a fabulous and huge delicious portion of gooey sticky toffee pudding – yum! Spirits were high, and Eve did a great job of making sure we were all looked after.
There is nothing like waking up to a bit of fresh snow for soft first tracks. We grouped together with other chalet guests to ski with Eddie. A swift morning tour of the Prodains, Fornet, Chavanette & Mossettes areas and it's back to the Yeti bar right next to the chalet for lunch. For the afternoon we set off for a calmer ski with full bellies. The area between the top of the Super Morzine lift & Avoriaz is perfect for relaxed skiing in a wide picturesque area of mainly green & easy blue runs. The trees down into Lindarets were perfect for the low visibility that came in & we used the tree-lined blue runs to guide us down the slopes with fun lumps & bumps off the side to play on, too.
After a full day on the mountain, tea, cake and a sauna awaited us back in the chalet. If you like to let the heat of the sauna work its way into your achy ski muscles after a long day, then the lower ground-floor rooms in Chalet Violetta are ideal as the sauna is directly opposite your room. As people who don't usually use it, we found ourselves in there every day (remember your swimming costume!)
Around the table that evening, lots of ski stories & laughs from the day were shared over the delicious and beautifully presented salmon dish followed by brownies and home-made Nutella ice cream – yes, home-made ice cream! As it was a special weekend with Eddie the Eagle, after dinner we settled down to watch Eddie's movie with him, he was kind enough to answer everyone's questions afterwards. We found out that Eddie's Mum & Dad were really supportive of his skiing and they did really have the "I am Eddie's Mum/Dad" jumpers. They were at Calgary with him, and no he didn't really miss the opening ceremony - there was no way that was going to happen, it was Eddie's dream to go to the Olympics. Eddie was an excellent skier long before he took to flying through the air! Yes, ladies, Eddie does have Hugh Jackman's telephone number in his mobile phone as they toured the world together going to many a film premier.
On Saturday the sun was out and it was time to have a big ski day. We skied the Porte du Soleils Circuit. It was a fantastic full day out using the new Chatel connecting lifts Gabelou & Portes du Soleil. We skied from Avoriaz through Plaine Dranse, to Chatel, Morgins, Champoissin and stopped for lunch at one of the many sunny restaurant spots on Les Crosets mountain before returning via Grand Conche into the Avoriaz area. From there, it was straight into the Moon Party at the Folie Douce, which is just minutes from the chalet, to enjoy a bit of dancing on the tables. What a fabulous day out.
Saturday was Eve's day off, so we headed into town for dinner and within 5 minutes arrived at a lovely Savoyard restaurant and enjoyed a pierrade. If you haven't tried a pierrade in France, it's something you absolutely have to do. You get to cook your own meat on a hot rock accompanied by potato dauphinoise and salad, all washed down with a lovely local red wine. You may raise your eyebrows on cooking your own food in a restaurant, but it is a great experience and well worth it. After all, they do say if you want something doing right, do it yourself! Decisions, decisions; is it onto Shooters or a bit of table-dancing at Globe Trotters or home for a good night's sleep?
On Sunday we made time to watch the freestyle guys doing their jumps and tricks in the Champ de Ski area above the chalet. The development in Freestyle skiing has been really noticeable over the last few years and it is an impressive feat to watch from the safety of the side of the slope! We enjoyed the skiing so much in Les Crosets, Switzerland, yesterday that it was back to explore more of the wide runs and to nail black 22 - all in the immense beauty and backdrop of the Dents Du Midi. We were in the area within 30 minutes from the chalet – it is so quick to get around the PDS from Avoriaz. Alternatively, you can pop into the area via the notorious Swiss Wall. They say some red runs are like blacks and some black runs are like reds - I can confidently say that there aren't many runs more black than the Swiss Wall. I counted 6 restaurants in Les Crosets ski area - great for a sunny lunch or a strong drink after the Wall!
Eve definitely saved the best meal for the last night - a creamy baked camembert with red marmalade, followed by duck breast and a delicious parsnip bevington, finished off with a stylish brandy basket and lemon syllabub. We even had a magician at dinner, courtesy of one of the guest's party tricks and the quote of the weekend from another guest was "this is the weekend that just keeps on giving!".
Monday morning started with a hearty bowl of porridge, eggs & bacon and a steaming cup of coffee. It wasn't quite home time, and we got ready for one final blast before our 5 pm transfer. We headed back to Chatel to ski the gorgeous Panaramique blue run where there are wonderful views toward Lake Geneva (Lac Lemans), Leysin & Villars. This is a must-ski on a blue-bird day. Since the new Chatel connecting lifts have gone in, it's never been easier to ski this area from Avoriaz. We were back in Plaine Dranse for a reasonably priced lunch at 2 pm before a final ski, a quick change and another snow-cat ride to the Avoriaz welcome centre before our minibus transfer drove us off the mountain to the incredible view of the sunset fading out down behind the mountains - bringing our stay to a neat yet spectacular end. We had a quick pizza slice at Geneva Airport and a sleep on the 21.35 back to Gatwick, then we were home to bed with that very happy satisfied feel of a great weekend skiing. We can't wait for the next SkiWeekend. Be happy, ski more!