13 Nov, 2023
Snowboxx Festival Accommodation
As the winter chill settles over the mountains and snow begins to fall, anticipation is building for one of the biggest on-snow parties of the season – Snowboxx Festival 2024. This annual winter extravaganza promises to transform the snowy landscapes into a vibrant playground of music, adventure, and unforgettable memories.
SkiWeekends have a number of fantastic catered chalets and a hotel option in Avoriaz to suit any budget. What's more, we still have availability for that week (at time of writing). Providing ideal Snowboxx accommodation and boasting ski-in/ski-out locations close to the Avoriaz stages, these chalets will make an unforgettable festival experience even better!
Location, Dates and Lineup
Set against the breathtaking backdrop of a winter wonderland, Snowboxx Festival 2024 will take place in the heart of the Alps, with stages located in Avoriaz, France (found in the Portes du Soleil). Here, the snow-covered peaks provide a stunning setting for the festivities in one of SkiWeekends' favourite resorts. The festival is scheduled for 16th-23rd March 2023, inviting thrill-seekers and music enthusiasts from around the world to join the celebration.
Snowboxx Festival is renowned for curating an eclectic lineup that caters to a diverse audience. From chart-topping DJs to indie sensations, the 2024 edition promises an impressive array of musical talent that will keep the energy high throughout the event. Festival-goers can expect a mix of electronic dance music, live bands, and genre-blending performances that will resonate with every taste.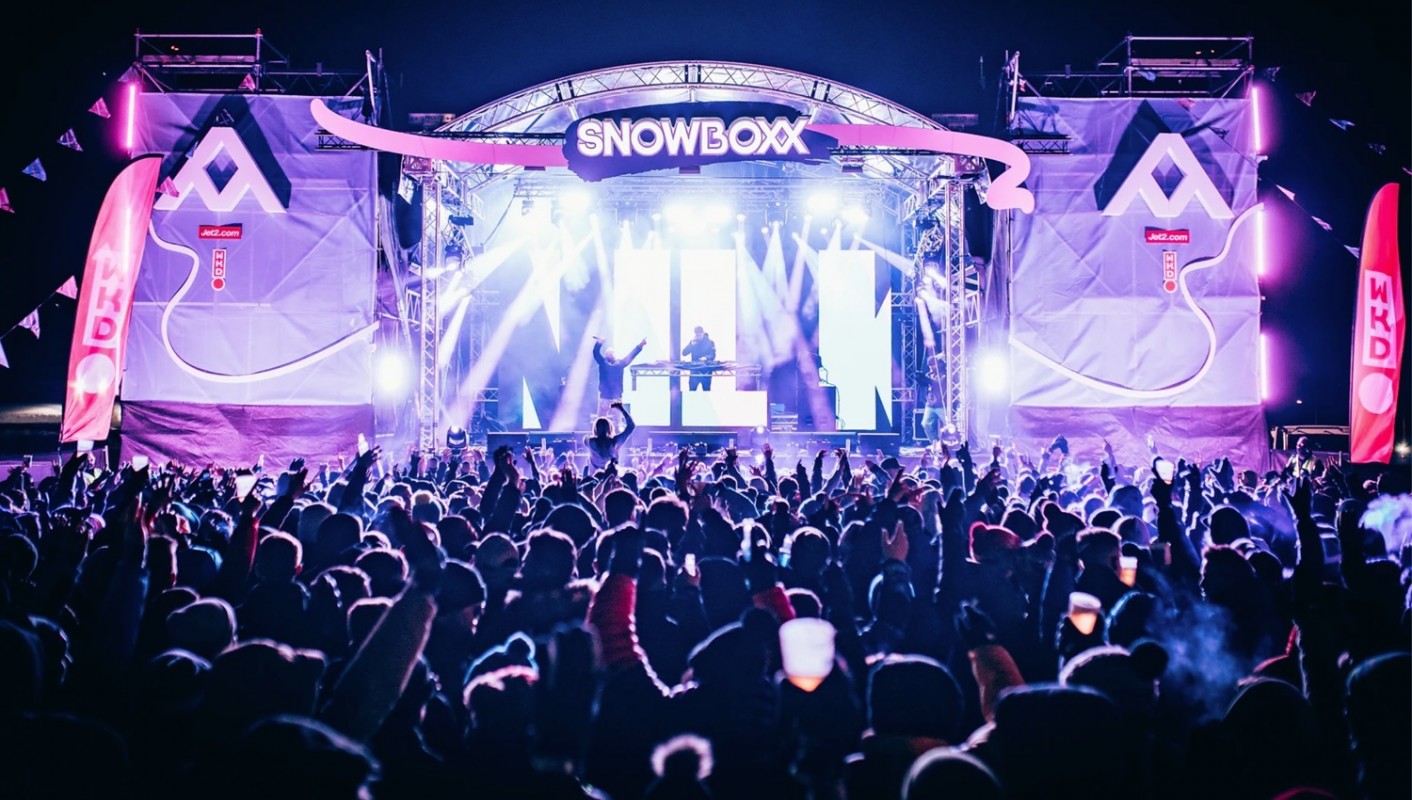 Adventure, Activities and Après
While the music takes center stage, Snowboxx Festival is not just about the beats; it's a holistic experience that blends adrenaline-pumping adventures with the serene beauty of the winter landscape. Attendees can indulge in a variety of activities, including skiing and snowboarding on world-class slopes, snowmobiling through pristine trails, and even relaxing in hot tubs with panoramic mountain views.
As the sun sets over the snow-capped peaks, the party continues with a series of après-ski events that add an extra layer of excitement to Snowboxx Festival. Avoriaz is home to one of the world renowned La Folie Douce bars, offering some of the best après experiences you can find anywhere. With live DJ's and a host of fellow revellers, you'll be dancing on top of the tables in your ski boots in no time!
Those looking for a slightly more relaxed experience can warm up with a hot drink or signature cocktail in hand, surrounded by the buzz of fellow festival-goers sharing tales of their snowy exploits. It's a week in the mountains that you'll be talking about for years to come! Now onto the all important Snowboxx festival accommodation...
SkiWeekends Snowboxx Accommodation
Join the fun and discover one of the Alps' best music festivals in 2024, check out some of our Snowboxx accommodation options available. These dates are selling out fast! Most of the accommodation is in Avoriaz, but it's worth checking out Morzine and Les Gets as those resorts provide easy access to the Snowboxx stages.
Chalet Lauzes (Avoriaz): 7 nights, Mon 18th March - £1194pp
Experience the entirety of the Snowboxx festival with a week-long stay, Chalet Lauzes provides a ski-in/ski-out location with close proximity to the bars, restaurants and stages.
To book Snowboxx accommodation, simply click on one of the chalet links above or get in touch with our friendly and helpful Ski Experts on 02380206971. You can also Enquire Online.